Finelli's Italian Villa offers creative dishes that include a variety of fresh veal, seafood, chicken, pastas, and fresh-cut steaks. It is an ideal setting for a romantic evening or a business function, as well as for large groups and parties. Enjoy a full-service bar or choose a bottle of wine from Finelli's award-winning Wine Spectator List.
History
Frank and Jeanne Finelli, proprietors of Finelli's Italian Villa, were familiar with the restaurant standing at 1808 4th Avenue in Altoona, Pennsylvania. In fact, it was a local landmark known as the Dutch Kitchen. In 1983 a blazing inferno destroyed the second and third floors and the building was marked for demolition.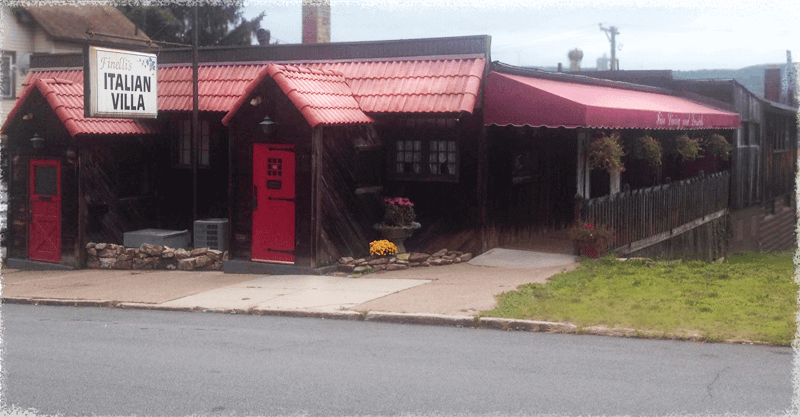 Frank shocked his family and his neighbors when he stopped the bulldozers and claimed the burned-out shell as the future home of Finelli's Italian Villa.
The entire Finelli family embraced Frank's vision to build a quality Italian restaurant from the ashes of the Dutch Kitchen. Over the next 10 years the Finelli family worked doggedly to rebuild the structure and to learn the fine points of the restaurant business. In 1993 Finelli's Italian Villa triumphantly opened its doors. It remains a family-backed undertaking with Frank acting as host and manager while Jeanne runs the dining room. Anthony is the head chef and Amigh works behind the bar and in the dining room.
Frankie Finelli Scholarship
This year will be our 14th annual golf outing in support of the scholarship fund to continue to provide opportunities each year for graduating seniors.
The 2015 golf outing will be held Sunday, September 13th at the Iron Masters Country Club with a shot gun start at 1:00pm. The cost per golfer is $85.00 and that includes 18 holes, cart, t-shirt, snacks and beverages on the course, A bag of goodies and dinner following the outing.
If your business would be interested in sponsoring a hold…hole and greenside sponsorships are available for the event at the cost of $125.00 per hold or green. We ask that these sponsorships be paid prior to the event.
All checks should be made to: Frankie Finelli II Scholarship Fund.
With your continued support, we look forward to another successful even this year. For additional information, please contact Anthony Finelli at 943-8510 or 934-6539. You can also email us at finellischolarship@verizon.net.
Thank you for your support!
Anthony J. Finelli and Kellie Ianuzzi
"The restaurant is a great portrayal of not only our ideals but also those of our children. We are so happy and fulfilled by having our family working closely with us and we can't imagine being anywhere else," -Jeanne Finelli.